Ford Performance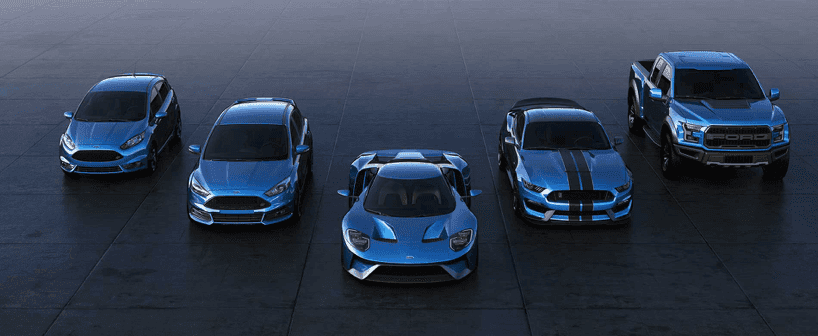 Ford Performance From Capital Ford of Rocky Mount

PERFORMANCE VEHICLES
Ford GT
Shelby GT350R
Shelby GT350
F-150 Raptor
Focus RS
Focus ST
Fiesta ST
Ford Performance parts:
Mustang parts

Handling packs
Wheels
Lug nuts
Wheel center caps
Ford wheel hub kits
Ford Performance windshield banner
Fender covers
Brake upgrades
ETC.

Crate engines
Packs
Superchargers
Performance/power upgrades
Engines used in NASCAR
Ford Performance Parts is proud to be the only high-volume manufacturer that designs, engineers, develops, sells, and supports a wide range of performance parts for both racing and street use. All Ford performance calibrations go through a rigorous test schedule utilizing the same Ford resources used in production vehicle development. Hot weather, cold weather, and barometric changes are used during calibration development and testing to ensure safe, reliable horsepower in any driving condition.
Heritage Vehicles
2016 Cobra Jet
2014 BOSS 302R
2014 BOSS 302S
Fiesta B-Spec
2013 Cobra Jet
2012 BOSS 302R
2010 FR500CJ
FR500CJ
FR500S
FR500C
FR500GT4
2012 Focus ST-R
Cobra Jet
In 2008 Ford celebrated the 40th Anniversary of the 1968 CJ with the introduction of the new Cobra Jet. It's the ultimate "Parts Car" – Ford Performance Parts, that is. It is literally a production Mustang body, engineered with a carefully chosen set of Ford Performance high performance parts and other components to do one thing: win drag races.
One of the 2008 CJs, owned by Hajek Motorsports, won the 2009 NHRA Winternationals in the hands of John Calvert. Calvert's car sported vintage Rice Holman graphics in honor of Al Joniec's historic '68 Winternationals win. In fact, most of the 2008 Mustang Cobra Jets competed with nostalgia graphic packages mirroring those on famous Mustang CJ drag cars.
So popular is the modern Mustang Cobra Jet, that Ford Performance built 50-car batches in 2008, 2010, 2012, 2013, and 2014, and is doing so again for the 2016 season.
BOSS 302:
Forty years ago, the original Mustang BOSS 302 became a road racing legend. Now, the new BOSS 302R from Ford Performance is adding another illustrious chapter to the legend. Production of no more than 50 BOSS 302Rs is planned. While they are serialized, these cars are definitely not street legal – they are proper, full-fledged race cars, ready to race in several classes of Grand-Am, SCCA, and NASA road racing.
The Boss 302S is an entry level, purpose built road racing Mustang from Ford Performance. The car was designed to appeal to many levels of road racing enthusiasts. The Boss 302S is competitively priced considering its level of engineering and competitiveness. In addition to being a very capable open track car, NASA and the SCCA have approved the 302S to compete in both American Iron and the World Challenge GTS class.
Circle Track
Circle Track: Ford Performance offers the widest line of Sealed Racing Engines – from 350 to 590 HP. Ford Sealed Racing Engines are engineered, tested, and built to professional racing series standards and deliver reliable lasting performance. These aren't built from repackaged production parts – but real racing parts like Forged Crank, Rods, and Pistons with full floating piston pins. Based on the proven Ford Performance BOSS Series race blocks these engines deliver Pole Setting Power with reliable and consistent performance lap after lap – RIGHT OUT OF THE CRATE.
5 REASONS WHY FORD SEALED RACING ENGINES DELIVER REAL VALUE
Ford Sealed Racing Engines are designed, developed, and tested for racing applications – These are NOT repackaged production engines
Ford Sealed Racing Engines are machined and assembled with racing clearances for reliable high speed operation
Ford Sealed Racing Engines are built with premium Ford Performance and Aftermarket racing parts from Mahle, COMP, PAC, Edelbrock, Callies, SCAT, and Eagle
Ford Performance has a full time dedicated Program Manager and dedicated Engineer to support Short Track Racing
Ford Sealed Racing Engines are hand assembled in the USA
Track Cal
Track Cal is the exclusive Ford Performance calibration software that offers new features and added performance. Track Cal is available for the 2013-2014 Mustang GT.
Track Cal utilizes a ProCal tool to enable the performance calibration. Track Cal is available for the 2013-2014 Mustang GT with manual transmission. Track Cal is uploaded via Ford Performance's exclusive ProCal tool. It does NOT feature a separate ignition key.
Contingency Program:
When you sign up for a Ford Performance Account, you get access to more features from Ford Performance. You can register for our Contingency Award Programs, where you get paid when you race with Ford Performance Parts. You can also Register your ProCal Unit for Activation. When you register a Ford Performance Engine, we will send you a Free Ford Performance Fender Cover. And make sure you stay up to date with Ford Performance when you sign up for Fast News for the latest news, specials, and promotions.